It really shouldn't have worked at all. All they had was a rundown opera house, 12 college students and only $32 dollars in the bank.
The year was 1966 and the goal was to bring more tourists to Creede, Colorado. Mines were declining and the town desperately needed another source of revenue. A young minister who loved theatre, convinced the Creede Jaycees that summer stock was just what the town needed and surely some college students would find the challenge irresistible. Two University of Kansas theatre majors drove all night from Lawrence to look the town over and accept the offer. Co-founder, Steve Grossman admits, "The first time we looked at the old opera house, it seemed impossible. It was decrepit, holes in the wall, seats broken."And yet, with the help of the Creede Jaycees and just about everyone in town, it succeeded.
This summer the Creede Repertory Theatre is celebrating its 50th season. It has a national reputation for excellence. It sells over 20,000 tickets for performances in Creede and has outreach programs that entertain thousands of young people in a three state area.Members of the original 1966 company, along with many other alumni, Creede business owners and patrons talk about this amazing accomplishment in a new documentary, "50 Seasons Strong." The movie follows the stories of the original cast to current company members. It looks at the spirit that drove the company forward and honors the people who helped make the impossible, possible.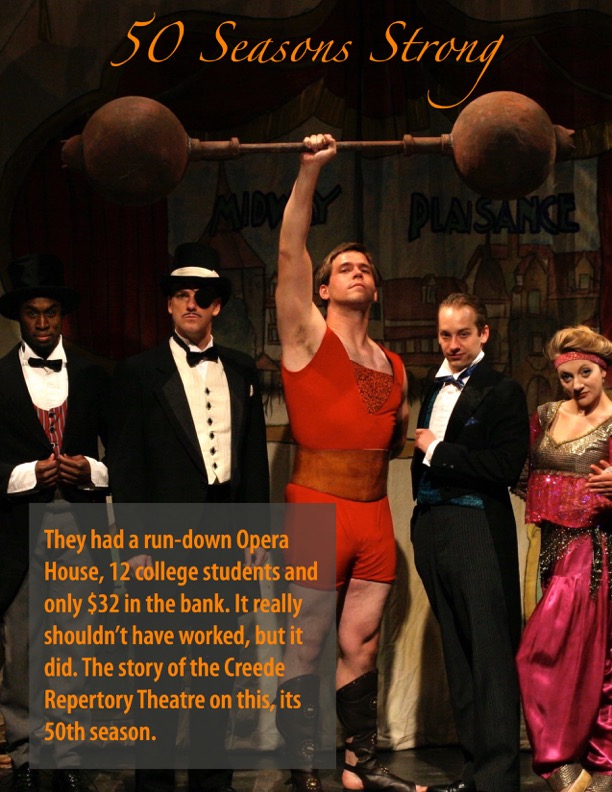 Among the people interviewed in the film is Mandy Patinkin, a 1971 alumnus who is known around the world for his roles on TV, movies and Broadway. Mandy recalls Creede and the landscape that surrounds it as "paradise." As he put it, "It wasn't theatre, it was 'thee-ate-er", 100 percent youthful energy and honesty. It wasn't about being famous, it was about being
together. It was about entertaining the troops."
The Mountaineer Theatre will host a special screening of the movie on Thursday, August 13th.
The filmmaker, Bev Chapman, will attend and answer questions after the show.
Join us in celebrating all the people of this region as well as the tiny town of Creede that took an idea and a rundown opera house and turned it into pure gold.